Group Chair
Steve Minney, Swansea University
Email: s.n.minney@swansea.ac.uk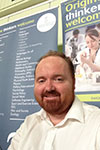 Steve has been a HELOA member since 2000 and is Outreach Manager at Swansea University.  He has sat on various committees during his career including the UCAS/DfE Curriculum and Progression group (2009 to 2011), NQIS Advisory Board (2013 onwards), Welsh Baccalaureate HE Advisory Team (2002 to 2007), UCAS Tariff WBQ Expert Group (2009) and has spoken at national conferences on curriculum issues.  Steve has been an LEA governor at Morriston Comprehensive School since 2007 and became HELOA Wales Chair in January 2014.
Group Vice-Chair, External Relations
Dewi Phillips, Aberystwyth University
Email: dep@aber.ac.uk
Group Secretary
James Kerr, Swansea University
Email: j.a.kerr@swansea.ac.uk
James has worked for Swansea University's Student Recruitment Office since 2011, having graduated from Swansea with a degree in History in 2010. His main duties include organising the joint HELOA Wales Study in Wales stand, administration of regional meetings and circulating information amongst HELOA Wales members.
Group Treasurer
Gemma Williamson, Swansea University
Email: g.williamson@swansea.ac.uk
Gemma graduated with a degree in English and American Studies from Swansea University in 2005 and is due to complete a part-time Masters in Journalism later this year.  After a brief period of travelling and a temporary contract with PR agency, MGB PR, she joined Swansea University's central Marketing department in early 2007, and gained experience of corporate communications, web development, admissions and alumni relations before joining the Student Recruitment team in March 2011.
Group Web and Publications Officer
Rebecca Jones, University of South Wales
Email: rebecca.jones@southwales.ac.uk
Rebecca graduated with a degree in Welsh from Swansea University in 2007, and returned to Swansea in 2008 as the University's Welsh-medium Development and Recruitment Officer. In 2012, she took up the post as Welsh-medium Schools and Colleges Liaison Officer at the University of Glamorgan (now, the University of South Wales), and became HELOA Wales Web and Publications Officer in 2013. Rebecca has recently coordinated the redevelopment of the Group's website.