Group Chair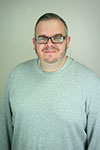 Joe Bradbury-Walters, University of Portsmouth
Education Liaison and Outreach Officer
Tel: 023 9284 2715
Email: joe.bradbury-walters@port.ac.uk

Joe's role as an Education Liaison and Outreach Officer involves working with secondary schools on a local and national level, running workshops, giving presentations and talks and attending careers events. The aim of this work is to raise aspirations and help young people make informed decisions about their future.Joe started at the University in 2005 and has worked on projects in many areas. Current responsibilities include the annual Summer School residential, producing the It'sUP2u publication and coordinating the University's Maths outreach work. With a background in areas such as hospitality, customer service, and recruitment Joe brings a wealth of skills to his current role. Joe's educational background is in performing arts and education studies, with experience in teaching, as well as a term as governor at a local secondary school. Joe thoroughly enjoys the variety and creativity in his current role and the opportunity to help pupils in the local area to make informed choices about HIgher Education. Joe was elected as Group Chair in August 2014.
Group Secretary
Kayleigh Buckingham, University of Kent
Email: K.M.Buckingham-26@kent.ac.uk
Kayleigh has worked at the University of Kent since graduating from there in 2012 with a 2:1 BA degree in French and Drama.  She is an Outreach Activities Coordinator at Kent, where she organizes and leads various activities with partner schools and colleges across Kent. She also represented Kent at various higher education events across the UK and Europe in her previous role as a Recruitment Officer. She believes that everyone should have access to Higher Education and enjoys meeting students from all over the world and providing an insight into the opportunities that university study can offer in terms of employability and personal development. She particularly enjoys seeing young people become more engaged in education whilst taking steps towards brighter futures.
Group Vice-Chair, Training
Gail Alani, University of Southampton
UK Student Recruitment Manager
Tel: 023 8059 9126
Email: g.alani@soton.ac.uk

Group Vice-Chair, Partnerships
Fred Binley, University of Southampton
UK Schools and Colleges Liaison Officer
Tel: 023 8059 7794
Email: f.a.binley@southampton.ac.uk

Fred has been an active member of HELOA since March 2005, having served as Chair of the Northwest Regional Group (working at Lancaster University as Head of UK Student Recruitment and Outreach) and now as Vice-Chair, Partnerships for the South East Group, working as a Schools and Colleges Liaison Officer for the University of Southampton. Fred's role at the university leads on engaging with and delivering activities which seek to improve the number and quality of undergraduate and postgraduate applicants to the University of Southampton. He works proactively promoting the University of Southampton at a large number of education fairs (including UCAS and school/college HE fairs) primarily focussing on the Midlands and the surrounding areas but also operating across a wider geographical area. As an experienced HE marketer, with over 10 years working in schools and colleges liaison he delivers a wide range of talks and workshops to prospective students, their parents/carers and other influencers.
Fred is hoping that during his term in office, he is able to build and develop some fantastic working relationships with key stakeholders within the higher education sector. If you have any suggestions for partnerships within the sector that may be of benefit to the group, please don't hesitate to contact Fred at the above email address.