Group Chair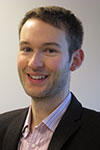 Simon Jenkins, UK Student Recruitment Manager, Keele University
Email: s.jenkins@keele.ac.uk
Simon manages the UK Student Recruitment team at Keele University, with responsibility for Open Days, Offer Holder Days, UCAS Exhibitions, schools and colleges engagement and postgraduate student recruitment. Prior to joining Keele in 2015, Simon worked at The University of Nottingham and he has been a HELOA Midlands member since 2012. As Group Chair, Simon works with his committee to co-ordinate the activity of the group and provides regular updates to members through monthly digest e-mails
Group Vice-Chair, Training
Louise Stow, Student Recruitment Manager, Bishop Grosseteste University
Email: louise.stow@bishopg.ac.uk
Louise works as Student Recruitment Manager at Bishop Grosseteste University and has been a member of HELOA for the past 5 years. Louise takes the lead on training for Midlands members, co-ordinating our annual training day and makes arrangements for regular training sessions to follow each regional meeting. If you have any suggestions for training or recommendations for trainers please contact Louise.
Group Vice-Chair, Partnerships
Elliot Newstead, Senior Student Recruitment Officer, University of Leicester
Email: en69@leicester.ac.uk
Group Vice-Chair, Administration
Hazel Mason, REACH Development Officer, REACH Partnership NNCO
Email: hazel.reach1@Gmail.com

Group Treasurer
Anisha Parmar, Student Recruitment Officer, University of Leicester
Email: app11@leicester.ac.uk
Group Web/Marketing Officer
Rowan Triffitt, Nottingham Trent University
Email: rowan.triffitt@ntu.ac.uk
Rowan is entering his fifth year as a HELOA member, and took up the post of Group Web/Marketing Officer in August 2012. His duties are maintaining the HELOA Midlands website and developing marketing opportunities for the group. During his term of office Rowan aims to develop the website to better serve visitors and to develop new and creative marketing ideas.